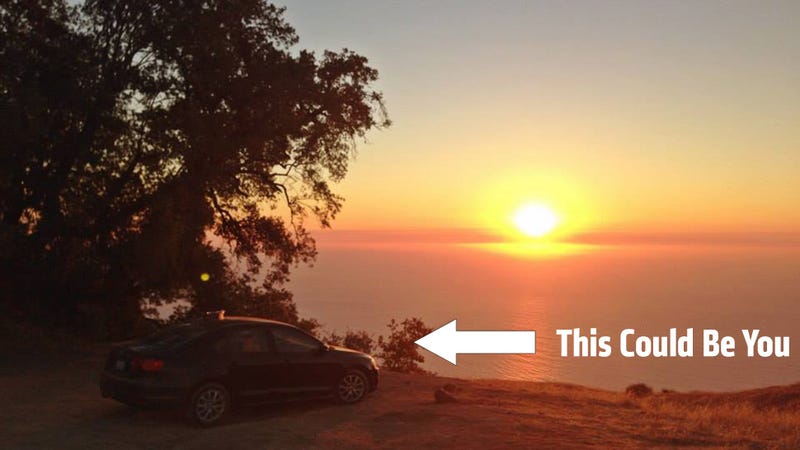 Last weekend, Lara, Wiley and I found what's got to be the most beautiful car camping spot on god's green earth. If you have the ability to drive a car to Big Sur, read a map and cook over a fire, you can camp there too. Here's how.
The campsite is called "Prewitt Ridge" and while it's an officially designated campground in the Los Padres National Forest, it's "dispersed camping," meaning there's no reservations, no toilets, no running water or anything like that. Over the entirety of last weekend, we saw two other groups of people camping there and there's room for more than a dozen.
There's two reasons no one goes there. The first being Nacimiento-Fergusson road. You have to climb it to get to the fire road that allows access to the campsite and it's just not the kind of road that most people would consider...safe. One lane of badly-paved width runs over the mountains from the coast to the California interior, winding its way along too many switchbacks to count. Encounter a car coming the other way and, if it's a local in a beat up old pickup, they'll just try and run you over the cliff. If it's a tourist, they'll just panic and run themselves off the cliff. If it's a road pirate on a Harley, well, they're drunk and won't feel it when they hit the bottom.
Navigate that successfully and, when you reach the ridge, you turn south on the dirt road. Which is the other thing keeping the tourist hoards at bay. I'd never been down it before, but I found some reports online that suggested it was smooth going and things looked pretty maintained on Google Earth, so I decided to take the plunge and put in the five hour drive up from Los Angeles to explore.
Well, it's really Lara that decided to take the plunge, because it was her Jetta we drove up in. 10 months into this puppy business, I'm still bike-only. I really need to get around to buying an expedition truck, but in the meantime, being driven to various adventures by a gorgeous woman isn't exactly roughing it.